Last week our founder, Lizzy, was invited to Home and Family to share this quick, easy and flavorful recipe that will not disappoint! This yummy recipe adapted from her father in law, Lizzy's Turkey Curry combines savory and a hint of sweet. Sunday prep works super well with this recipe, making it easy to toss diced veggies, ground meat and spices into a quick meal. You can also use this recipe with vegan meat substitute options as well.
This dish will become your favorite fall dish this season! Check out the recipe below and click here to watch Lizzy make her Turkey Curry on Home and Family.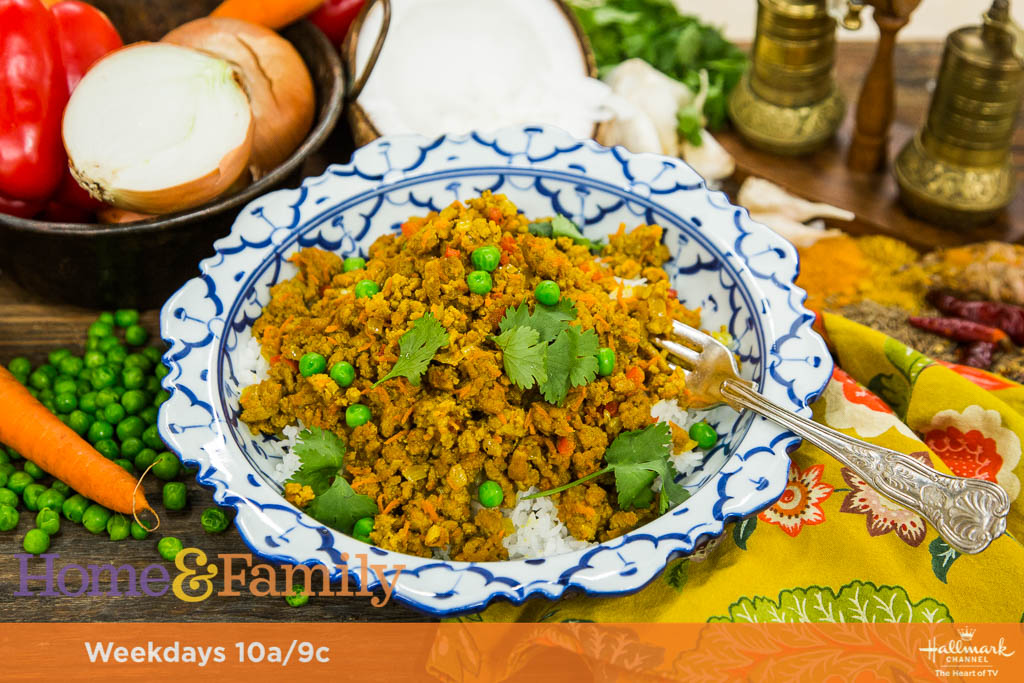 Lizzy's Turkey Curry
1 lb ground turkey, beef or vegan substitute
1 tbsp curry powder (add more as needed)
1 1/2 tsp of salt
1 tsp pepper
1 tbsp cumin
1 tbsp onion powder
1 tbsp garlic powder
2 tbsp coconut oil (add more as needed)
1 cup grated carrots
I small chopped onion
1/2 cup of frozen peas
1/2 cup diced red pepper
1 tbsp maple syrup or coconut syrup
2 tbsp water
Optional 1/2 tsp cayenne pepper
Basmati rice (cooked according to package directions)
Cook the basmati rice according to package directions or in rice cooker.
Add 1 tbsp coconut oil to skillet and let warm.
Add ground turkey and cook throughly until brown.
Add veggies and remaining coconut oil.
Mix around then add salt, pepper, spices and maple syrup. Mix around again.
Add 2 tbsp of water and let simmer with a cover while veggies cook, about 5-8 minutes or until veggies are tender. Mix around.
Serve Turkey Curry on a bed of Basmati Rice and garnish with cilantro.