Looking for a few back to school lunch ideas?  Our founder of The Cool Mom Co, Lizzy, joined KTLA to chat about several creative back to school lunch ideas perfect for any parent looking to shake up the normal lunch routine!  These creative ideas are easy to make and will have your kiddos excited for more!
Check out the full tutorials and watch the LIVE segment below!
Cucumber Sushi + Heart Shaped Fruit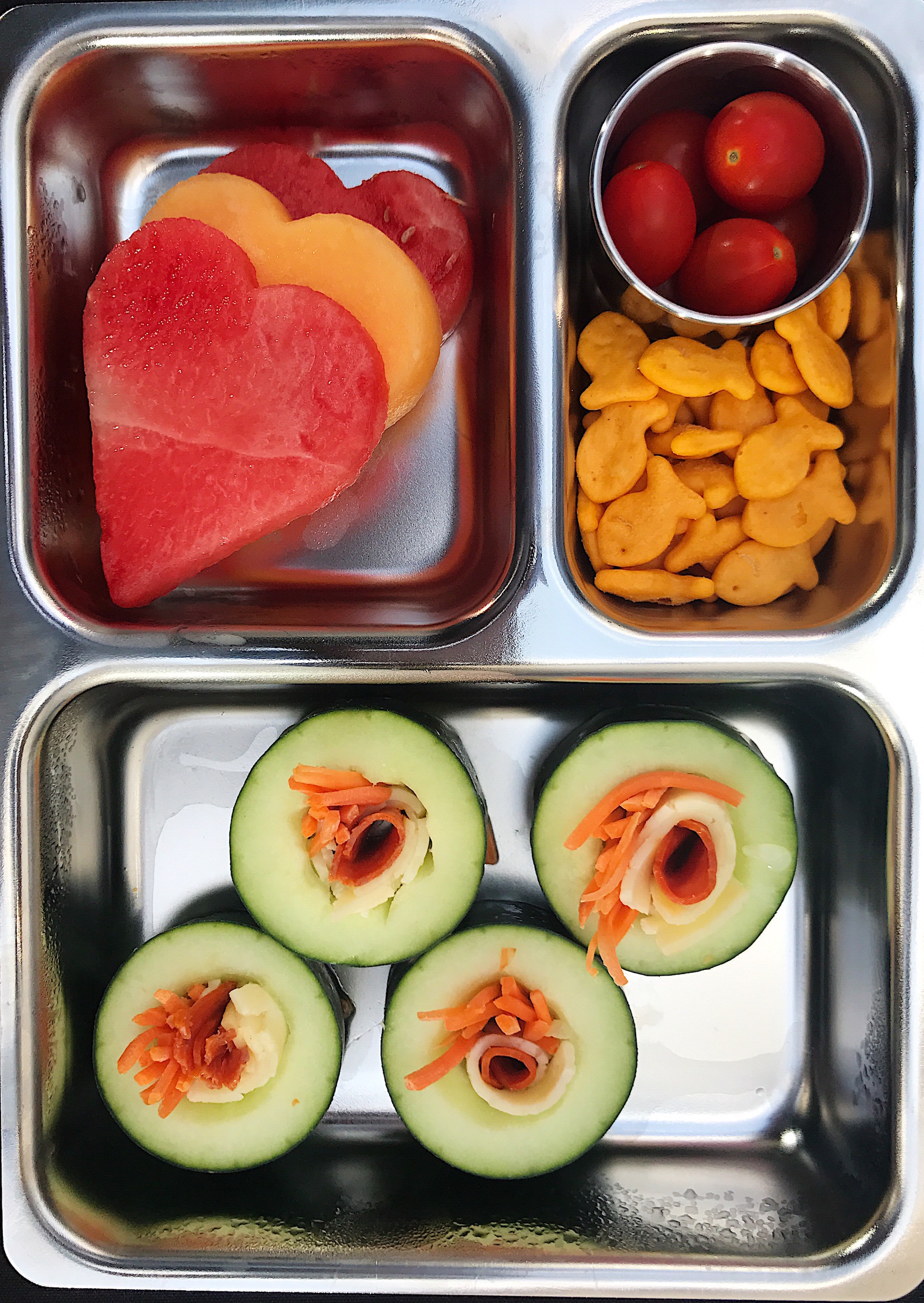 Cucumber Sushi is the ultimate alternative for sushi lovers and great for kids!  You can add any filling you want: turkey, cheese, carrots, seaweed or cream cheese.  The sky is the limit!
You'll need:
Cucumber
Turkey Pepperoni 
Sliced Cheese
Shredded Carrots
Slice the end off one side of cucumber.
Cut cucumber into 1 inch slices.
Spoon out the center (or use a melon ball scooper) and discard the seeds.
Slice up your cheese into thin strips.
Roll your cheese and turkey pepperoni.
Stuff into your cucumber and add shredded carrots.
Enjoy!
Heart Shaped Fruit is a sure way to get kids excited to eat fruit and veggies!
You'll Need:
Watermelon
Cantaloupe
Heart Shaped Cookie Cutters
Slice the watermelon or cantaloupe.
Use your heart cutter.
Enjoy!
Mini Waffle Almond Butter & Jelly Sandwich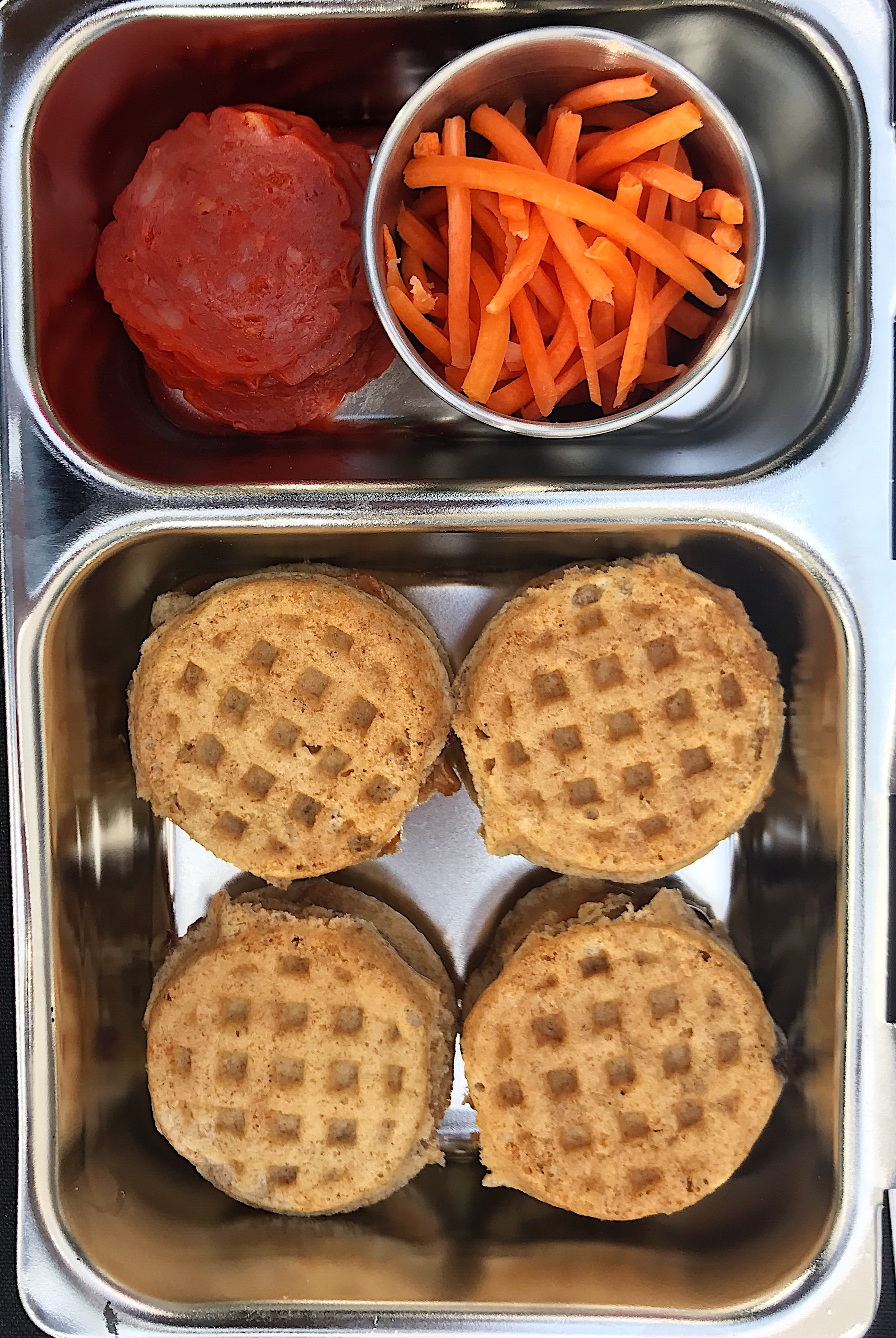 Mini waffle sandwiches are a fun and creative take on the classic PB&J!  Kids will love these yummy, easy to handle minis!
You'll Need:
Frozen Mini Waffles
Nut butter and Jelly
Warm frozen waffles according to package.
Spread nut butter and jelly.
Enjoy!
Banana Nutella Sushi + Pretzel Fruit Kebobs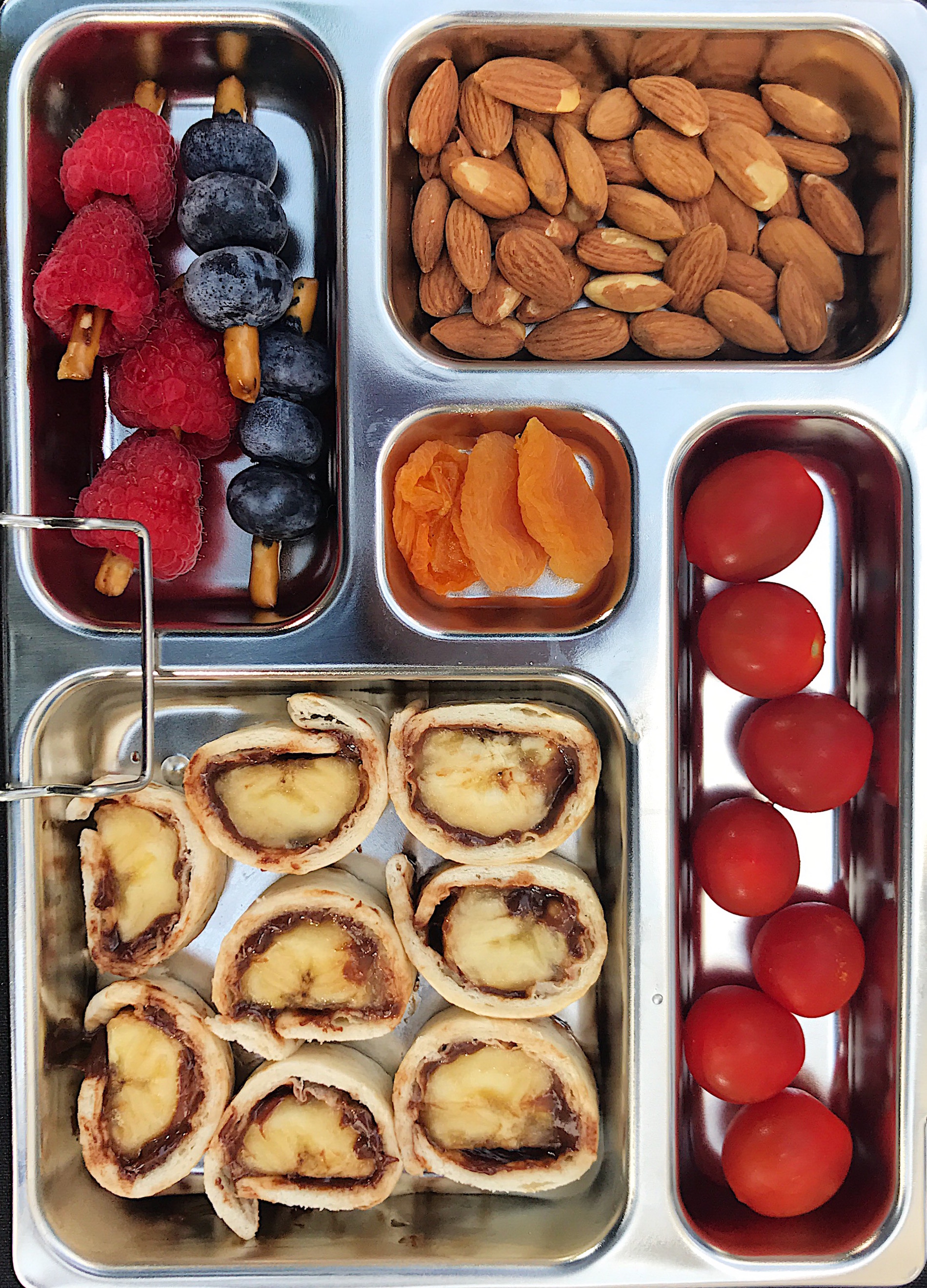 Banana Nutella Sushi….Did someone say Nutella?  Anytime Nutella is involved it's a win win.  Pair it with banana slices and call it sushi.  Your kids will thank you later!
You'll Need:
Peeled Banana
Nutella
Tortilla
Lay tortilla flat.
Spread Nutella on tortilla.
Place banana on one edge.
Roll banana and tortilla like sushi into a log.
Slice log into 1 inch slices.
Enjoy!
Pretzel Fruit Kebobs are a simple twist on the original fruit kebob!  Easy to make and yummy with a sweet and salty kick!  Kids will love the fruit and the crunch!
You'll Need:
Blueberries
Raspberries 
Pretzel Sticks
Take pretzel sticks and stack berries.
Enjoy soon! (pretzels can get soggy if prepared overnight)
Pizza Rolls + Apple "Donut" Rings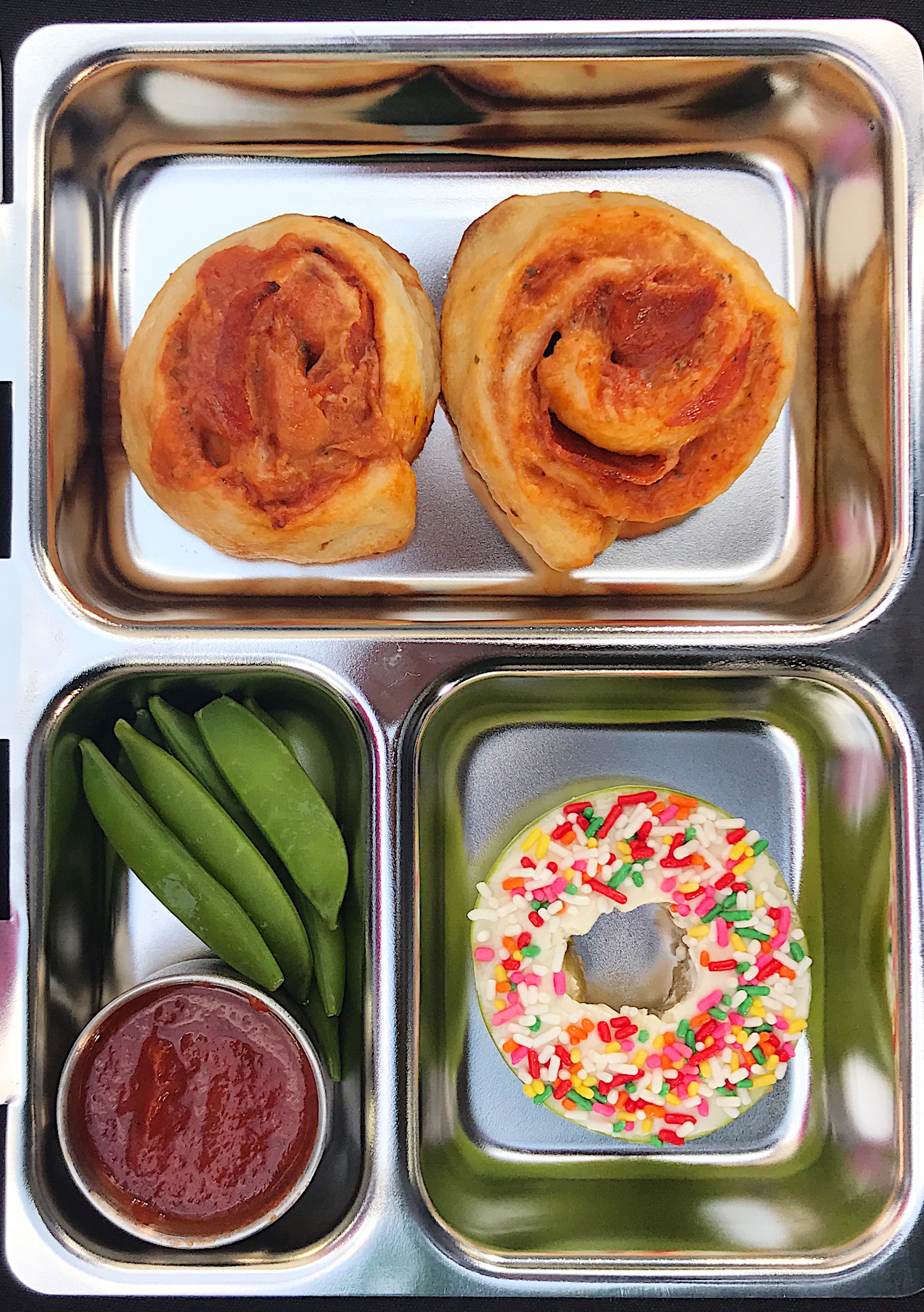 Pizza Rolls are a fun alternative to the cheese pizza!  You can make these the night before and refrigerate until you are ready to use.  
You'll Need:
Refrigerated Pizza Dough
Pizza Sauce
Shredded Mozzarella Cheese (we also added turkey pepperoni)
Roll out dough according to package instructions.
Spread pizza sauce on top.
Top with cheese and pepperoni.
Starting at one long end, roll into a log.
Slice log into 1 inch slices.
Bake according to package, about 10 mins or until golden brown on top.
Let cool and enjoy!
Apple "Donut" Rings are a sure way to trick any kiddo into eating their fruit!  Check out this simple and easy twist!
You'll Need:
Apple
Cream Cheese 
Rainbow Sprinkles
Core apple.
Slice apple into 1 inch slices.
Spread cream cheese on apple.
Sprinkle with sprinkles.
Enjoy!
Muffin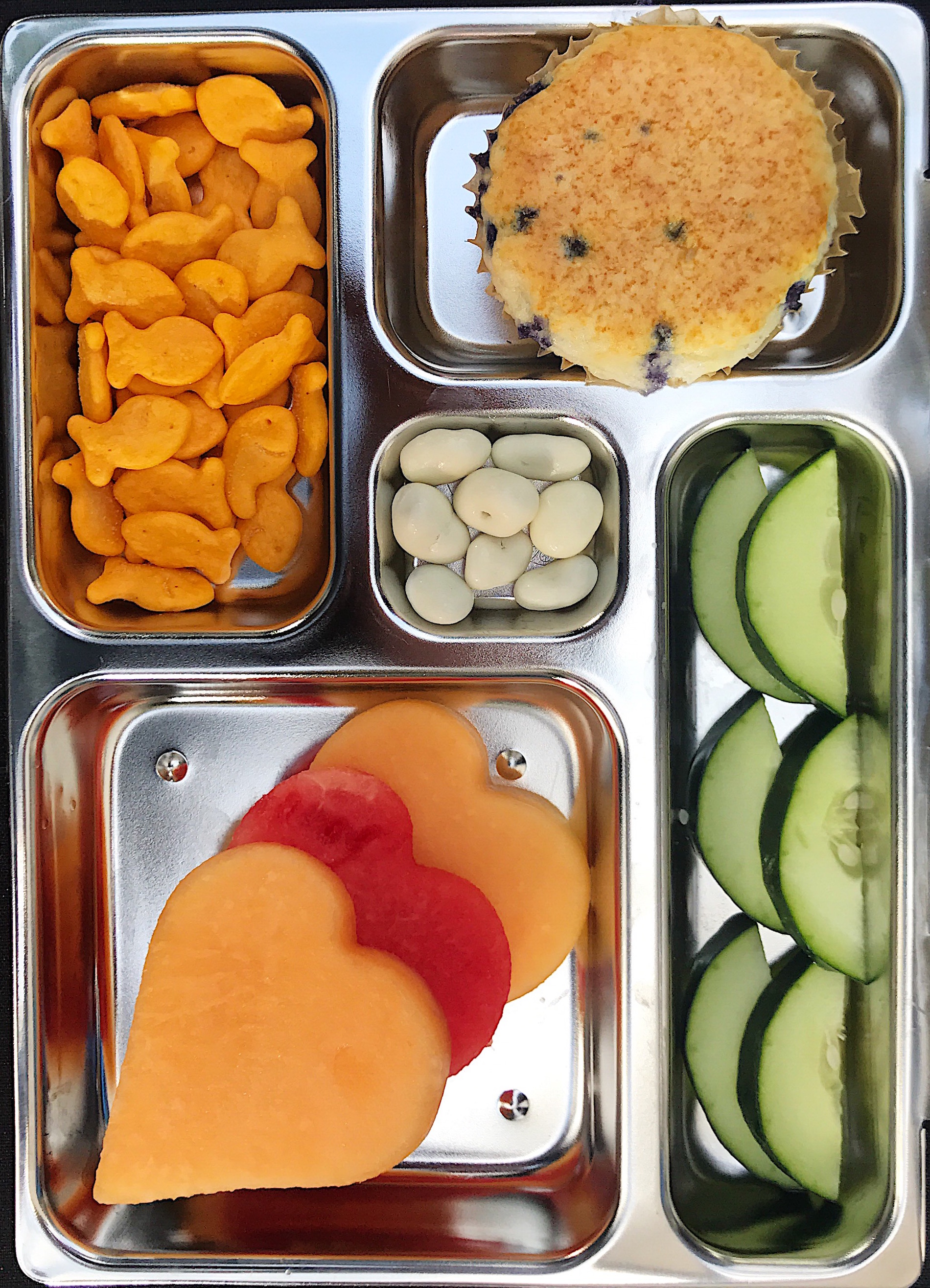 Muffins are a great way to sneak in sweet fruit or savory meats and veggies!  Try the classic blueberry muffin or switch it up with turkey and cheese muffins!  Either way, kids will love the pint sized treat!  Find one of our fave muffin recipes HERE.
We hope these tips inspire you to switch up your kiddos normal lunch routine and get creative. Have some fun with these back to school lunch ideas  and check out the live video below!