Happy Monday!
This morning The Cool Mom Co joined KTLA to chat about some fun ways to entertain your kids this summer. Trust me, these ideas are great for any mama who needs a break this summer! These crafty ideas are simple to make, easy to play and best of all super inexpensive!
Check out the full tutorials and watch the LIVE segment below!
Fidget Spinner Chores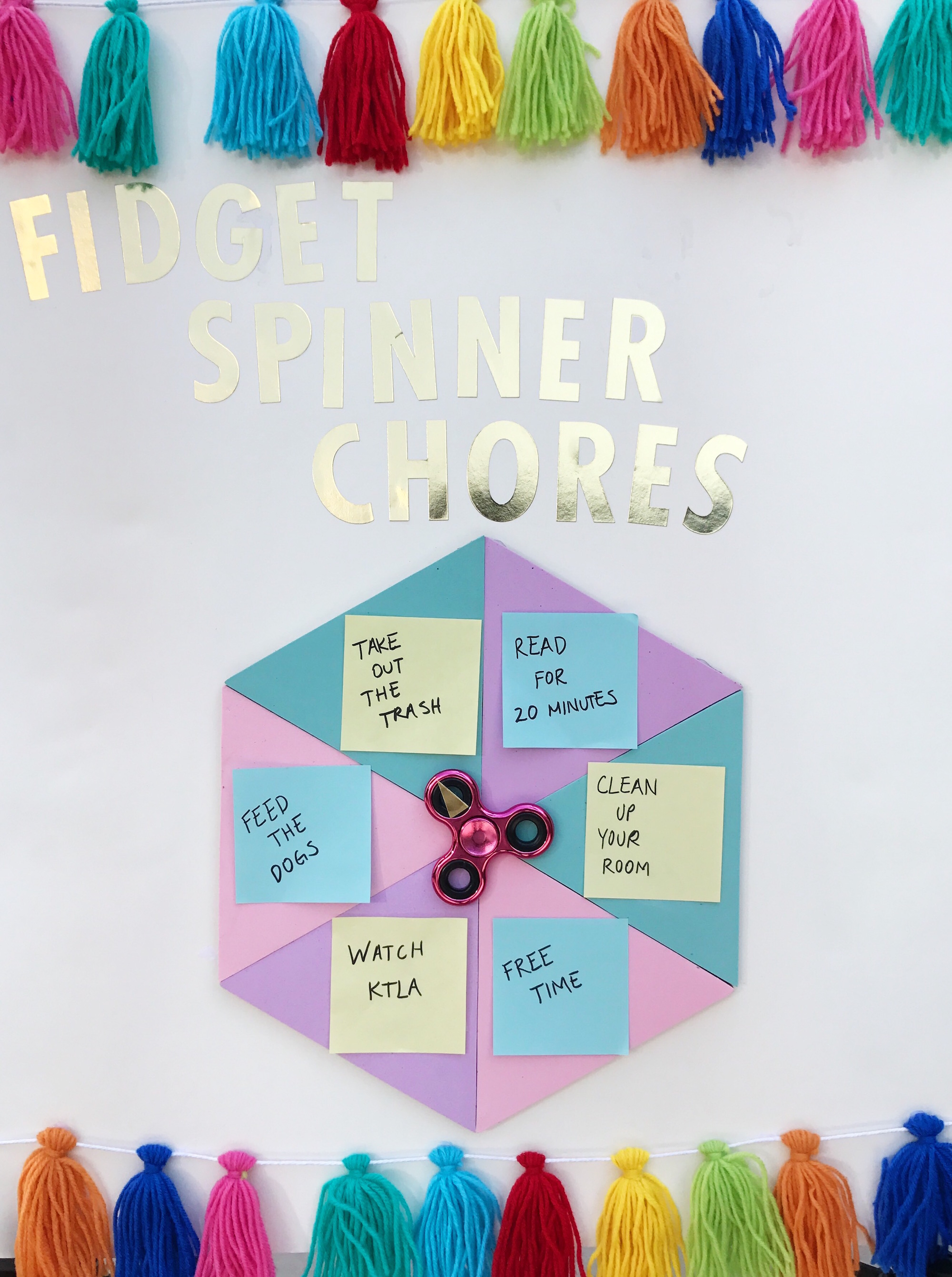 Everyone knows how crazy kids are for the fidget spinner these days! We took the phenomenon to the next level and added a fun way to get a few chores around the house done. The best part is you can change the chores with sticky notes anytime to fit your needs.
You'll need:
Poster Board
Foam Cork Boards Pre Cut (find them at Target or local craft store)
Hot Glue Gun
Fidget Spinner
Post It Notes
Tassels (for decoration at Target or local craft store)
Self Adhesive Block Letters
Lay out your poster board on a flat surface.
Cut your tassels evenly into two sections of 10 each.
Attach your first section of tassels to the top of the board using your hot glue gun at the knot of each tassel.
Using your block letters, spell out Fidget Spinner Chores.
Lay your cork boards into the shape of a hexagon (all tips touching)
Hot glue each cork board one at a time and set back into the shape.
Hot glue the back of your Fidget Spinner only in the middle where you would usually hold it with your hands.  Press down for 20 seconds to make sure it's secure.
Attach your second section of tassels to the bottom of your board using your hot glue gun, the same as before.
Grab a few Post It notes, write your chores then stick them onto the cork boards.
Balloon Tennis
This game will keep the young and old occupied! We revamped the classic game with an indoor or outdoor activity safe for everyone!
You'll Need:
Paper Plates
Popsicle Sticks
Balloon
Hot Glue Gun (or tape)
Attach the popsicle sticks to the back of the plate using your hot glue gun or tape.
Blow up your balloon.
Start playing!
Popcorn Olympics with Straws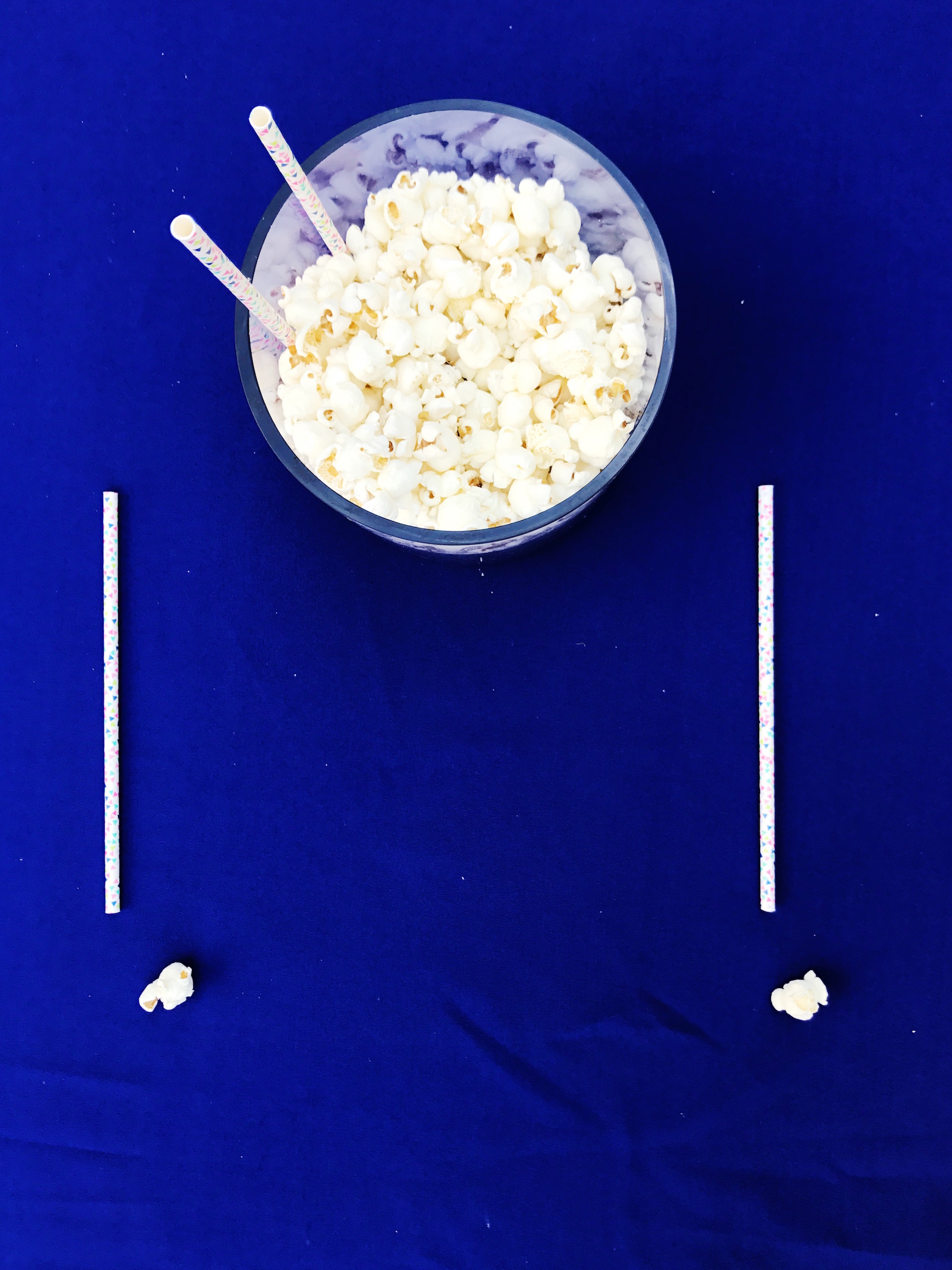 Another super easy game to play that all ages will enjoy! The trick is not to blow big puffs of air or the popcorn will fly everywhere. Whoever can make it to the finish line (or end of the table) by blowing their popcorn in a straight line, wins!
You'll Need:
Popped Popcorn
Straws
Lay down the popcorn in front of each player.
Hand them a straw.
Watch the fun unfold!
Bubble Wrap Art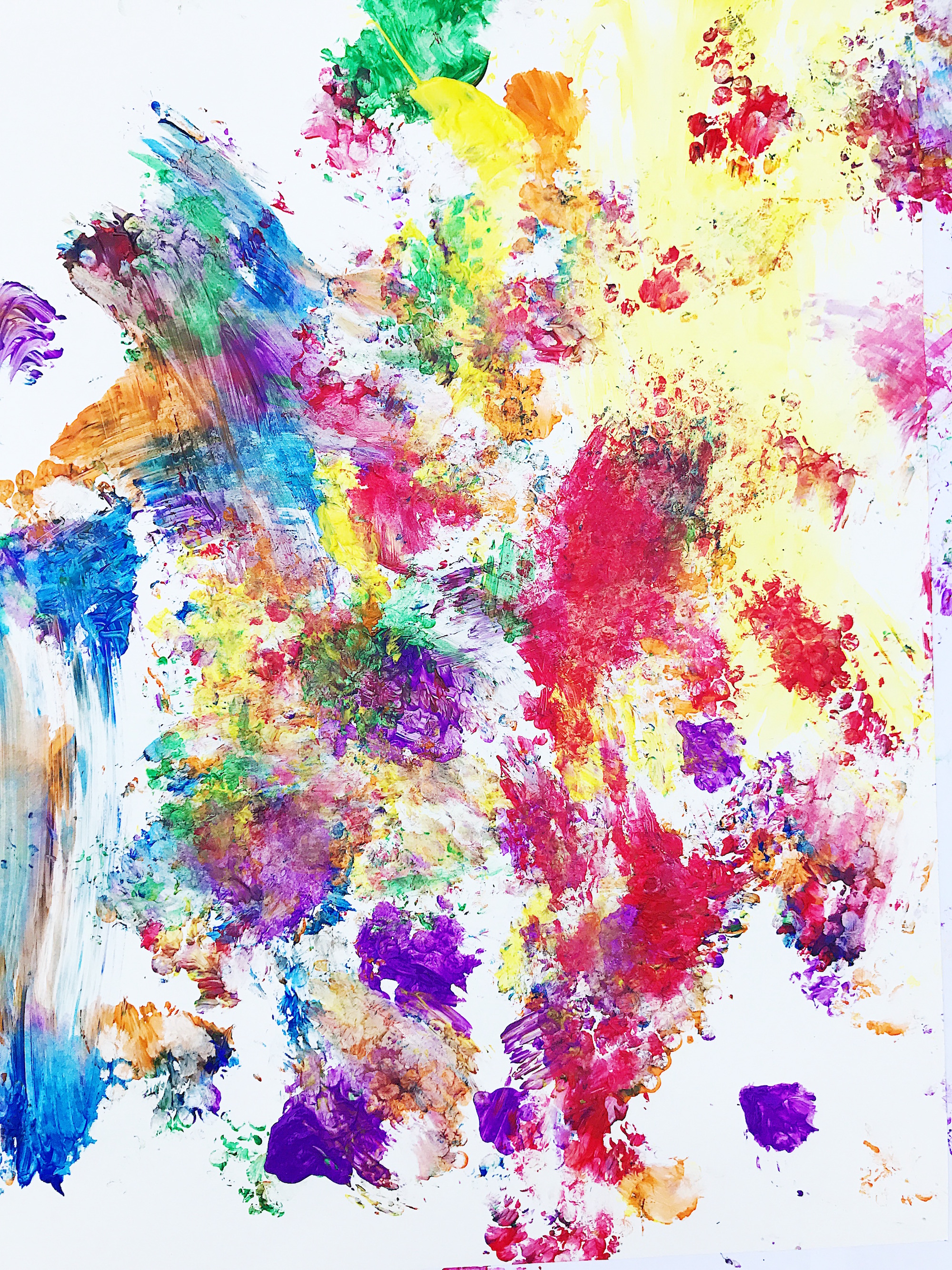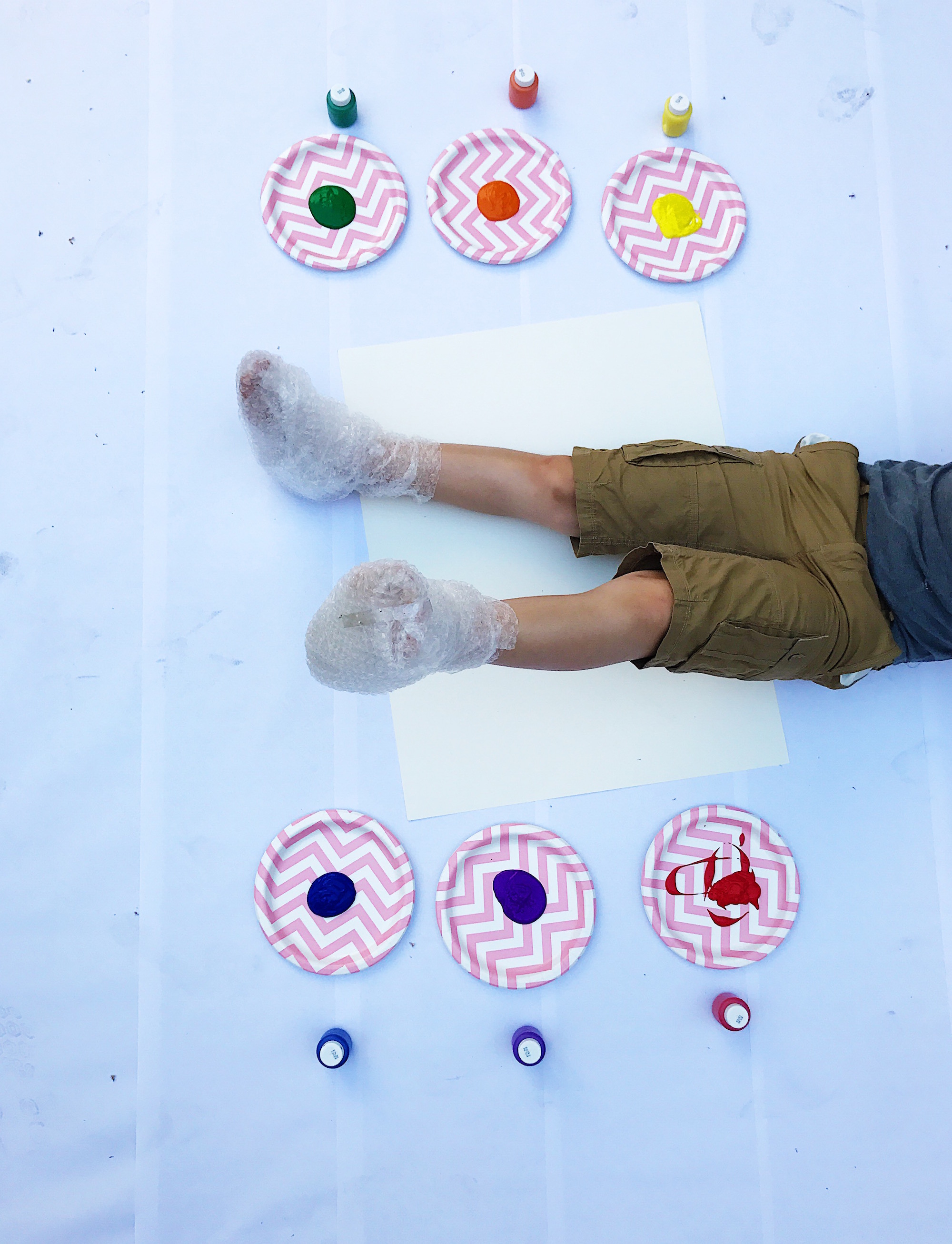 You may have a little Picasso on your hands and not even know it! This crafty idea definitely requires you to pay a little more attention but the kids will think it's the best thing ever! A great outdoor activity using their feet or an awesome indoor activity using their hands. Either way it makes a fun and colorful piece that you can hang in their room or as refrigerator art!
You'll Need:
Roll of Paper (or old paper bags cut flat)
Tape
Paper Plates
Washable Paint
Bubble Wrap
Poster Board (or 8×12 sheets of paper)
Roll out paper for any messes that may occur.  Tape rows of paper together onto the pavement or table surface you will be using.
Pour paint onto paper plates, one for each color.
Wrap child's feet (or hands) in bubble wrap and tape to secure.
Lay out poster board on rolled out paper.
Step back and let the masters work!
When finished, unwrap bubble wrap on paper, pick up artwork to dry and dispose of rolled out paper mess.
Magnetic Activity Board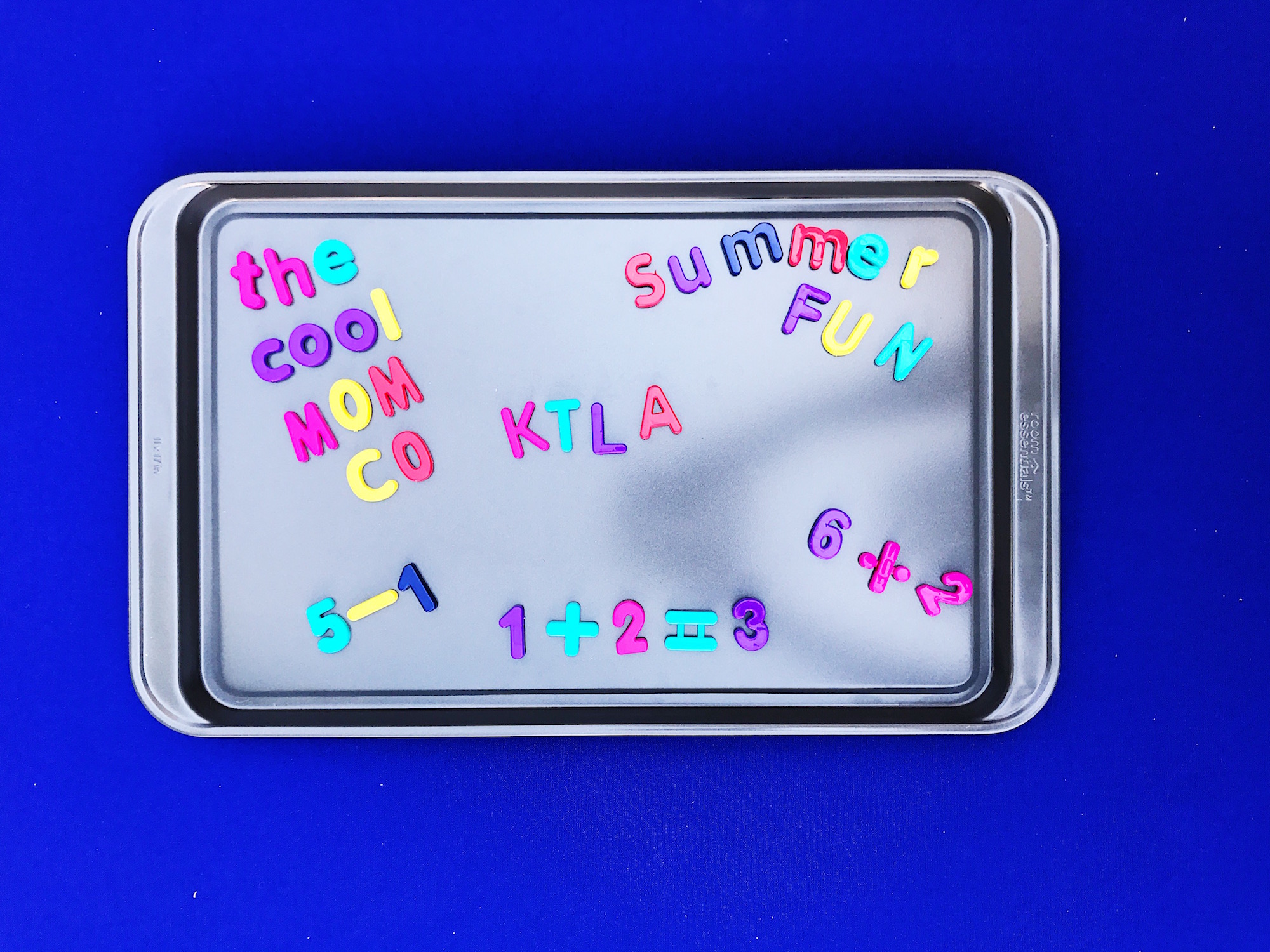 This board is one of my faves for long car rides or at home for my girls. We love to play games like I Spy in the car and my oldest daughter can spell out 3 letter words or work on number games right in her carseat!
You'll Need:
Baking Sheet
Magnetic Letters and Numbers
Hand them the baking sheet.
Let them choose the letters and numbers.
Voila!
We hope these tips inspire you to create some fun ways to entertain your kids this summer and check out the live video below!